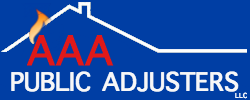 Public Adjusters
SERVING ALL OF YOUR PROPERTY LOSS NEEDS

 
AAA Public Adjusters, LLC is the nation's leading property loss consulting firm headquartered in Philadelphia, PA with additional offices throughout Pennsylvania, New Jersey, Delaware and Maryland. Started over 25 years ago, we do more than just prepare & file insurance claims. We leverage our adjusters' extensive property and insurance knowledge to safeguard our clients' interests (policyholders, including home and business owners) under their policies and increase their recovery from losses. 
Our claim services make it possible for our clients to focus on what matters most. AAA Public Adjusters has always fought to help them recover the benefits from their insurance claims – by ensuring their claims are handled appropriately, diligently, and fairly by the insurance companies. We represent home and business owners and are retained as expert witness in a variety of property loss claims, including: 
    


Each office throughout the Delaware Valley offers support from experienced public adjusters, who have helped residents of Bucks County, Chester County, Delaware County and Montgomery County. Additional areas we serve include: Abington, Lansdale, Lansdowne and Norristown.
If you need assistance with making a property loss claim, please give us a call or contact us via email today.